Welcome to Cuckoo! - Ultraframe's Online Marketing Portal
What Cuckoo can do?
Ultraframe online marketing centre will allow you create, personalise and print a range of proven marketing materials without the additional cost of a marketing agencies or new creative costs. By using an easy to navigate online portal you can search by marketing type, product area or key word to find what you require.
The services available are;
Design your own brochures

- create your own range of personalised brochures, point of sale materials and leaflets. These can be designed using your own images or our extensive library of assets to make a printed item bespoke to your business. Cuckoo will automatically personalise the items for you with your logo and contact details. Once you've created your bespoke brochure, you also have the option to download it as a pdf free of charge. This fully bespoke pdf brochure is ideal for adding to your website or to email out with quotes.
Send personalised bulk emails

- using our email templates or by uploading one of your own, you will be able to bulksend emails to your target customers. To ensure GDPR compliance, your email data is fully secure and only visible by your business. Our reporting system will allow you to see how many emails were received, opened and clicked.
Simple choose the marketing asset you require, personalise (if required/available), add these your basket and confirm your payment & order
Once you have registered your business you will be able to manage all of your Ultraframe marketing requirements in one place. This will make it easier to review current and past orders, as well as making repeat ordering quicker.
If you can't find what you are looking for, need individual artwork files or need any help with your marketing, please call us on 01200 452900 or email marketing@ultraframe.co.uk
Best way to use Cuckoo?
The online system has been designed to be simple to use and 'self-service' allowing our customers to have access to all the marketing materials that are available to promote Ultraframe products, as well as other (non- competitive) items your business sells.
Cuckoo will help your business to;
If your business needs any support in using the Cuckoo, on request Ultraframe's marketing team can provide 1-2-1 training where required.
Pricing
All items have been competitively priced whether our standard / generic brochures or if fully personalised. Using Cuckoo means you will save costs and gain more from your marketing budget as Ultraframe have already built the templates required, provide the images and do not require an external design agency to complete.
An example of the pricing and benefits of each type are shown below;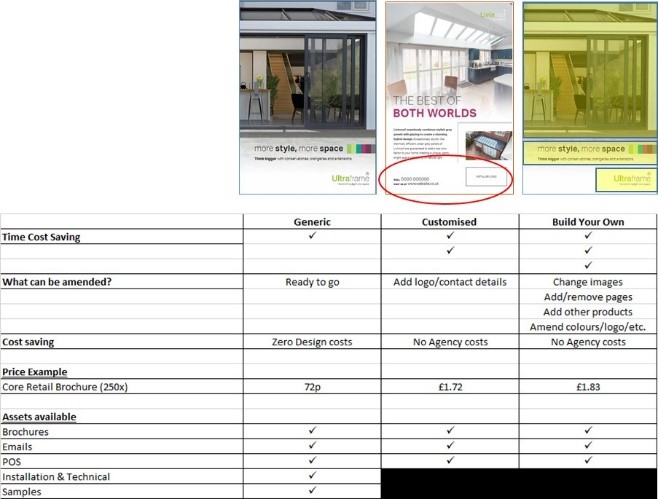 Delivery Charges
All delivery charges are based upon weight and dimensions of the items ordered. All items will be shipped within 48 hours unless out of stock. If items are out of stock you will be contacted with an indicative delivery date and asked whether you wish to continue with the order.
An indication of the charges are as following;
For all items delivered outside the UK, delivery charges are times by three (3x).
Terms & Conditions
Click here to view the terms and conditions of using the Cuckoo website.